FoT2020 alumni and cultural entrepreneur Daiana Tzvetkova reflects on the experience of the virtual Founders of Tomorrow 2020 bootcamp #space:
Bootcamps are formats recognised as short, intensive, and rigorous courses of training. Yet back in the days they were even tightly associated with new recruits for the military – known about their harsh discipline. What is the purpose of idea bootcamps today – to discipline, to train or moreover to invite participants to reach a point of knowledge beyond our comfort zone? And how does this work if we facilitate them online?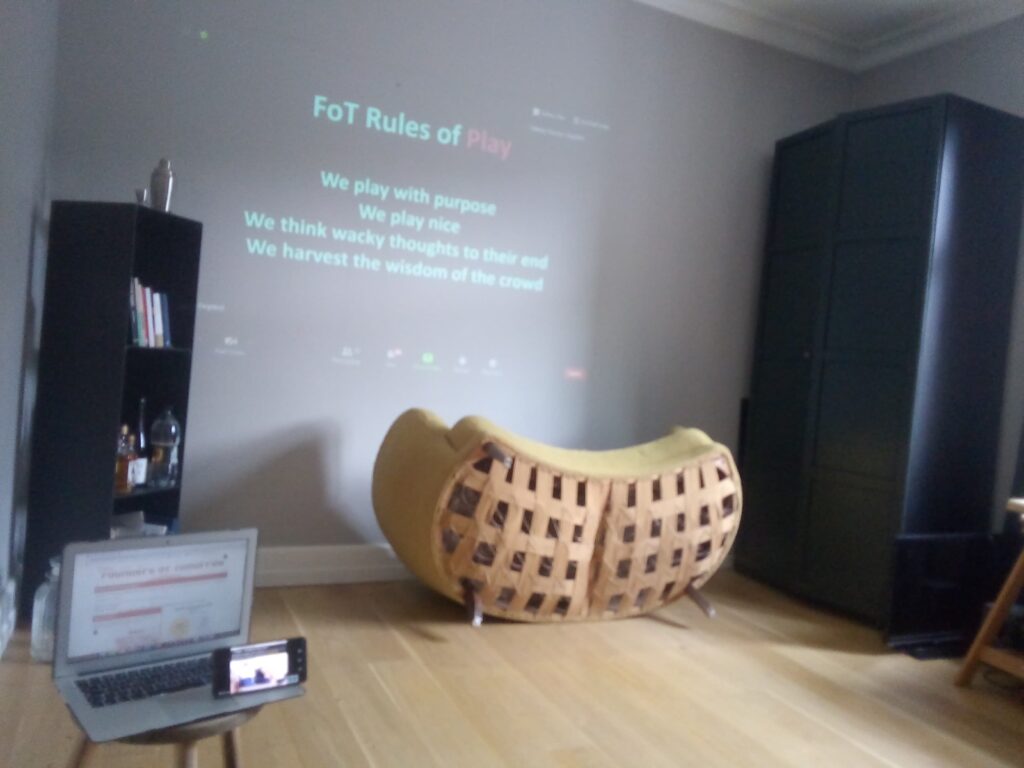 In summer 2020 Founders of Tomorrow – one of the leading bootcamps combining tech, impact and entrepreneurship taking place each year in Copenhagen was facing a tough choice due to the Covid-19 pandemic: to go fully digital or not happen at all. Known as one of the pioneers on disruptive technology in the industry, DareDisrupt with the support of the Danish Industry Foundation took the challenge and shaped a five-day interactive experience for 60 participants – students, managers, senior executives, entrepreneurs, physicists, scientists, business strategists, space experts etc.
We all embarked on an odyssey journey to SPACE. To me as a participant, it felt a bit as if we are in the spaceship cabin indeed. You would have an earbud in your ear and a keyboard in your hands at all times, and occasionally you will face a wide screen of 59 other curious faces. You were provided enough food and beverages delivered to your cabin from SimpleFeast. Your only concern was to hold on tight while being thrown into scientific, technological, artistic and ethical black wholes. Your task was to make sense of them by perfect landing with a pitching idea at the closing ceremony 5 day after the launch.
What made impressions on me during our virtual SPACE journey? I experienced the bootcamp in two ways – the digital "WE" was a team immersed into an idea competition, however the physical "ME" was on a fun explorative learning experience.
Digital We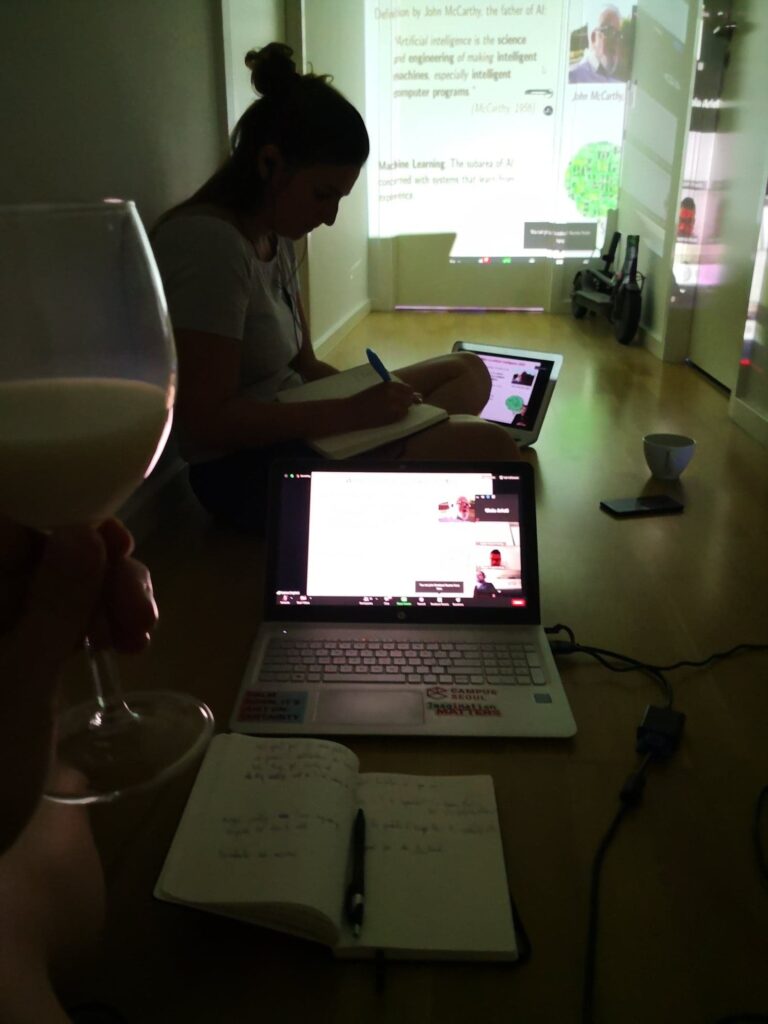 Collaborative platforms give freedom. Surprisingly, Howspace and Miro – helped my team and I to focus our attention on the idea development while having a fruitful conversation on Zoom. It seems like being together in one digital space – all focused on one white canvas in front of us and simultaneously discussing multiple solutions gave more freedom of expression than usually in physical sessions. In comparison, another platform (Canva) we used for the final pitch had no shared editing option, which really slowed down the process and restricted the rest of the team.
Reduce complexity for better and faster results. During the bootcamp we used Howspace – super simple software for editing. It worked well as all team members were able to edit simultaneously and follow a simple structure of brainstorming. The pitching experience online was also an amazing success to me, as it was able to reduce factors such as anxiety, peer pressure or technical issues that can occur when being physically on stage. Instead we just shared a screen and focused on delivering the message across.
Right balance of tools. The secret turns out to be – you don't need it all…You need rather the right digital tool for the right purpose. If you introduce a tool like Google Docs – you invite people to put words and think logically in sentences. If you allow them the freedom to visualise – add graphics and pictures such as Power Point Slides, you extend their creative skill a bit more. The sweet spot I believe, is when a tool invites one to expand his/her length of though in unusual ways, and by doing so welcomes combinative thinking to navigate through complexity.
Physical Me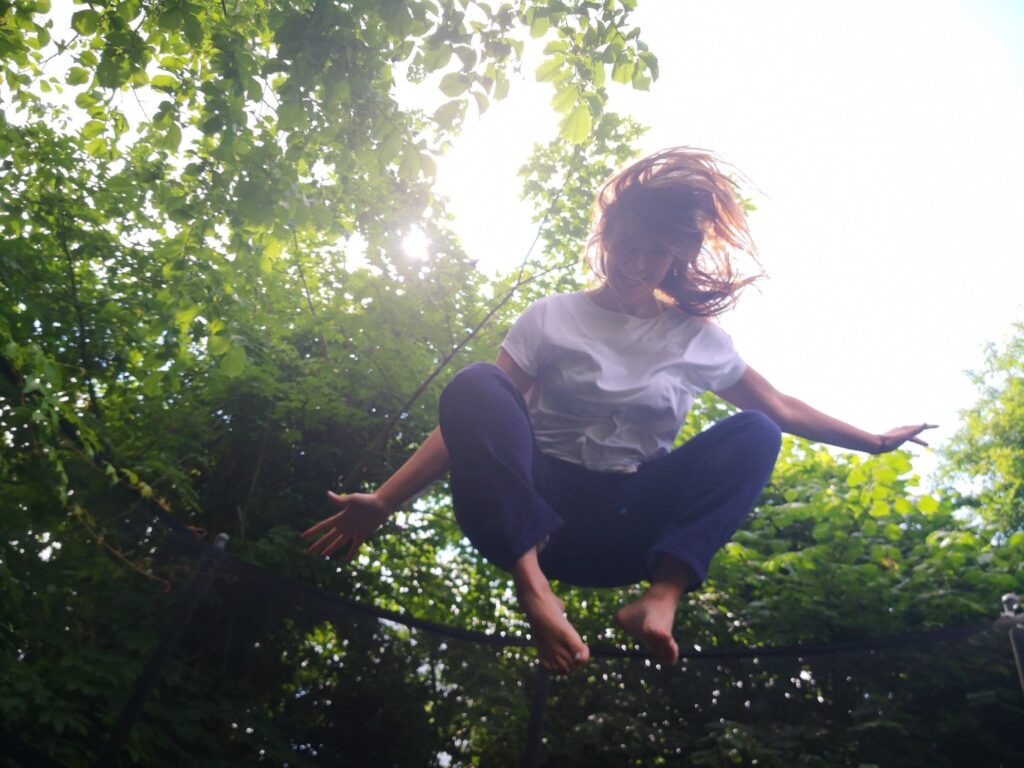 Fun in the physical world is needed: I experienced the bootcamp being physically with another participant in a room together. That made all the difference in the world! We had so much fun, making the best out of the story that we indeed embarked on a journey to Space.
First days we would set up my living room as the rocket launch area – had a projector on the wall, two computer screens and our phones. Technology gave us in this way both privacy when we were called in a 1:1 surprise meet-ups in breakout room with other participants, as well as a collective feeling of being together when we laughed so hard seeing ourselves from different angles of our screens. One of the days we spent in our space cabin in darkness – putting a projector in the no-window corridor at my friends ́ house and a lot of blankets to keep us warm. Outdoor walk & talks and group energisers were also a crucial moment to stay awake and motivated.
Make use of breaks: Many people were caught in discussions and would share their lunch breaks on screen. I however, wanted to maintain my energy on the long run and participate in all bootcamp activities. This level of bootcamp intensity required same amount of self-care. Therefore, I was permanently barefoot on the grass in my garden, jumping on a trampoline or just putting a funky groovy music to shaking off the tiredness while dancing. Almost every morning started with meditation and a nice cup of coffee.
Experience Value: Personally I found 3 extremely valuable points in the FoT digital experience that made me stay excited until the end:
Being infused with amounts of information from a number of very different areas of expertise such as digital art, IoT and computing, in a very short amount of time allows the brain to make weird connections and make sense of them in an innovative way.
Going digital has its benefits in terms of collaboration such as – laser focus, easy access to the internet for research purposes, shared screens as a common denominator to unite the team – it is us vs. "the challenge".
Even though we barely saw the other participants physically, over the course of the week we were constantly meeting new faces in breakout rooms, stumbling upon familiar ones in the park nearby over walk & talks. It kept this feeling of serendipity and glued us together as our "secret experience" where only 59 other people around the city are involved in right now!
As the final speech of Founders of Tomorrow 2020 was done, I had a sense sadness that the time is over and a feeling of togetherness with all smiley faces on screen. This feeling is only relatable to regular physical bootcamps – to my amazement, FoT organising team managed to gift us that! Looking forward to next year's challenge!