"I had been contemplating my job at Microsoft for long time and after being on a month long vacation I realised I needed to quit my job and take part in Founders of Tomorrow 2019." 
At the time of the interview, Jeppe is sitting at an accelerator in Stockholm. His startup, founded at Founders of Tomorrow 2019, BeResourceful, has been selected to Danske Bank's +impact accelerator program. This is not the first recognition BeResourceful has received since its start in March 2019. They have also received acknowledgment from the impact ecosystem by being awarded the first prize at DISIE's Days of Impact, granted an office space at the deep tech start-up incubator… Just to mention a few things, not too shabby.  
We sat down with Jeppe to have a chat and learn more about the winner of Founders of Tomorrow 2019. From finding his way in a new industry, to saying goodbye to Microsoft, his view on Silicon Valley and his journey from chasing hireability, to hiring in his own company.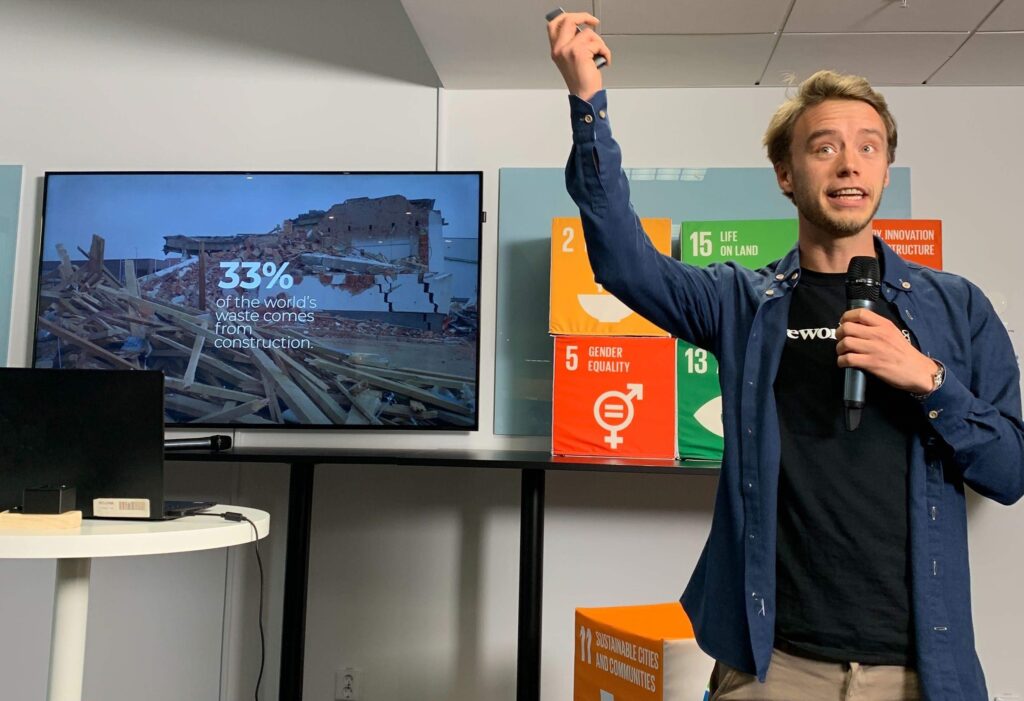 So let's start off with the basics – Where are you from? 
I'm a city child – born and raised in Østerbro, Copenhagen.  
What were your interests as a child? Who was your hero? 
As a child, I was like most young boys. I did the big three: football, lego and drawing. I guess I was a quiet child, who enjoyed reading and playing with lego by myself. I didn't necessarily need to be around people all the time; perhaps a semi introvert.  
I think, subconsciously I looked up to my brother as a hero. He played football, so I played football. He played Counterstrike, so I played Counterstrike.  This meant that I always played with the older kids, who generally were way better than me at the given activity, which allowed for improvements. It's true the saying, that if you want to improve fast – you play with someone better than yourself. 
What was your call to adventure? What got you on the innovation and technology path? What got on the path? 
I took a Bachelor of Science in Social Science at Roskilde Universitetscenter. The course eventually led to electives around work life and business management which sparked an interest in marketing and sale for me. In the last years of taking my bachelor, I wanted to get a job with industry relevance. Marketing agencies seem super cool and fast paced. I was excited to join the industry, and I eagerly applied to different agencies. Of course, I didn't get any response whatsoever.  
Eventually, I took a hard and cold look at my CV. I realised that I had nothing on it of relevance. It shows the employer that you've gone to school and nothing else. I wouldn't even hire myself in hindsight, haha. My call to adventure and action was realising that I hadn't done anything of industry relevance. So my goal became to fill my CV with experience and hopefully become more hireable.  
What were the trials you had to overcome? What projects did you get involved in? How have you failed… and did you ever want to quit? 
The true trial was the unknown. Not knowing what I was doing, and if I was on the right track or wasting my time. During this unknown period, I spent my free time googling digital marketing and just learning all I could. No one knew I spent my evening doing it, but slowly I was building up knowledge that was very useful, especially back then (when website building and google search optimization was very hot). This shows that it easily adds value, if you just read about a certain topic on blogs, websites, news letter etc. over a month or two. I started small, building website for my mother, family and friends. With this I slowly built a network, and people started paying me for my work.  
Wow so people actually started to pay you? That's a nice development. 
Yes! It was a surprise back then. I went from blog reading to real case scenarios. That's a common way to do it – start free, get leads, build from there. 
So, I distinctly remember that your introduction at Founders of Tomorrow was "I quit my job at Microsoft yesterday." Can you go more into that? 
After finishing my master in Marketing and Sales, I was hungry to follow a more technology focused and less marketing oriented job.  
I was still in Spain when I started looking with high demands for the best jobs in the industry. However, these people didn't want me. At that time, I naively thought I had the "Nordic" competitive advantage. I thought I was special,  where I slowly found out that that was an illusion. I got rejected from top tier companies also from the companies further and further down the list. 
Finally, I resorted to applying for jobs in search engine optimisation… my absolute least favourite task. This was for monthly salary of 1000 euro – and I also got rejected from that. The process of getting rejected so intensely really did things to one's confidence. 
Then, one day, I open my e-mail inbox, and out of the blue – Microsoft came back to me, went through that process. I didn't think I'd get it, but it all worked out in the end. However, after working there as a Project Manager for 2 years, I was ready to move on.  
Which seemed to lead you to Founders of Tomorrow! How did you discover the program to start with? 
I had been a part of Danske iDéer 2016. This was such a great experience for me, and it really came at good time in my life. It pushed me towards working in technology after having such an interesting experience learning about future technologies. I had been contemplating my job at Microsoft for long time and after being on a month long vacation I realised I needed to quit my job and take part in Founders of Tomorrow 2019.  
Then you go on to winning the final Founders of Tomorrow Journey after a week of intense work! Could you tell us more about your prize journey?  
I went to Draper University in Silicon Valley! It was more of a personal accelerator program than a business related one. I attended 6 weeks, full of lectures by industry people coming to talk for an hour each. It was super interesting, because it was not professors talking, but founders of start-ups. That was one part of it. The other part was the personal challenging experiences that we did to get us more into the entrepreneurial mindset. This would range from camps to getting ridiculed on the streets to being sent out on challenges or solving specific problems. Finally, there was the benefit of being around 100 young people and living and learning with them. 
Anything unexpected? Does Silicon Valley live up to its image of men in turtlenecks making lots of money? 
I did not have the best expectation of the United States, but I was pleasantly surprised by the openness and kindness of the people! San Francisco is very diverse, enriched with culture from gay communities to the many immigrants, to tech people bringing their talent. Besides that, it lives up the expectations of technology everywhere, with robots in the stores and everyone wearing airpods. 
What was your biggest take away from your 6 weeks there? 
That it is all just a game, and that you can play the game called "raising money in Silicon Valley". There are different tricks to use in your pitch, things you need to say, to win that game. Alternatively, if you play the game of building a company step by step, then play that game. You need to know what people or investors are looking for and then play your cards accordingly.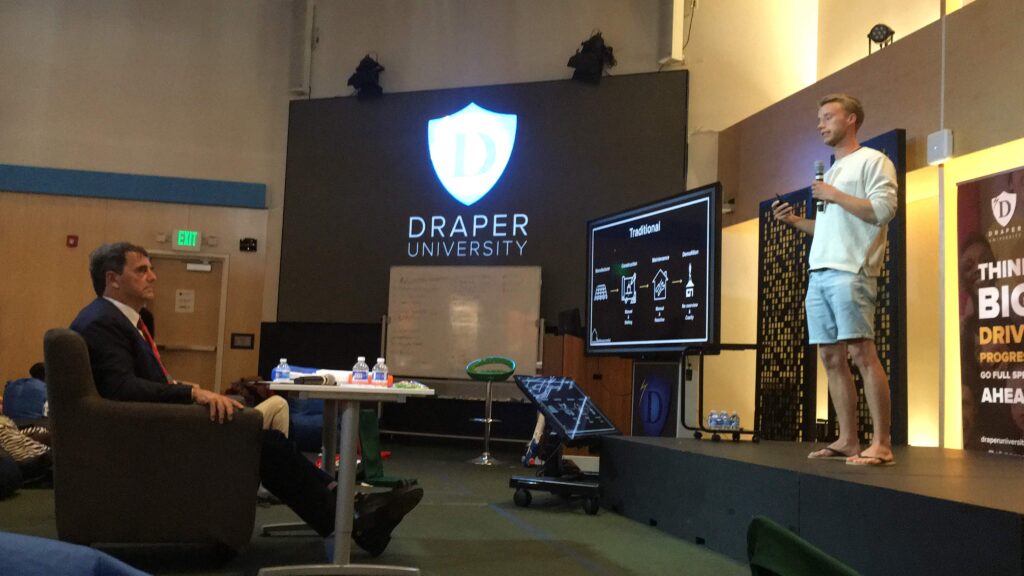 You won different pitch prizes so some might say you're playing the game very well.  
Yes, that was fun! When my mother saw the video of the pitch she said "Jeppe should I be honest? I didn't recognize you on that stage." She has seen me pitch in Copenhagen with the humble approach where you connect with judges on a personal level, whereas the Draper University pitch is 2 minutes long, concise, number focused, following the rule books with no time to connect with the judges. You don't need to show the humbler side, you need to convince them that "I know this shit and believe in myself because I'm extremely passionate." I had to train how to show enthusiasm on stage, which is difficult when coming from a Danish background. I am driven and passionate about things, but I won't scream about it. The pitch was good for the American format but very different than a Nordic formatted pitch.   
What could Danes learn from Silicon Valley? 
The enthusiasm is something we need more. It's contagious, in a good way. Whether you're working with someone, a customer or in front of an audience. Being enthusiastic is something everyone likes. I love when someone is nerdy about something. In Denmark, we're all equal, we don't want to stand out, we're scared to show that we're passionate about something in case others don't think it's cool. But I think that the people who stand out is the more interesting ones. That we can learn.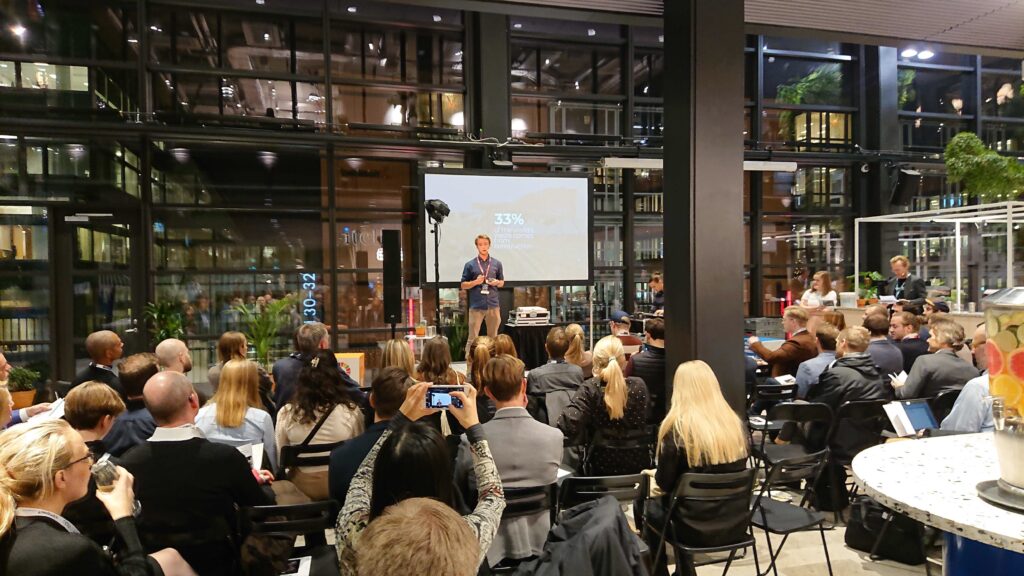 Now let's move to BeResourceful, tell us about it! 
Big vision or narrow focus? The big vision was created at Founders of Tomorrow and we're now working on focusing it down more and more. Currently, we are detecting damages early on in building components. In the present time, people are first recognizing damages when they are visible, for example when water drops from the roof. Our idea is to build sensors into building component in order to detect damages before they arise. This would save building owners and facility managers a lot of money and allow for extend lifetimes of building materials and lower resource use in the construction industry. There by becoming more resourceful. 
What's next for BeResourceful? 
This week we are setting up first sensors with customers in Denmark. We need to prove that the value that we say we can give, we can actually give. We currently working on setting 20 or so proof of concept cases. When and if we can prove gives value, then we will start building the business. The bigger vision of getting material passports into all the sensors, is still vision. We're starting with trying to detect moisture in wooden components, but we want to broaden the scope to more components and then in a few years have data on all the different components.  
Sounds very exciting, best of luck Jeppe and keep us posted!