"The crisis showed that our case is future proof."
This is part of a series of 'Chat with a FoTer' where we sit down with FoT alumni to discuss the amazing things they do.
At the time of the interview, Katja is at home in Aarhus. She's a co-founder of eachthing, a startup that helps consumers to gain insights into the food they buy and make sure it matches their needs and values. eachthing has recently received funding from the Innovation Fund Denmark, Danish Growth Fund and impact investor Grenwise Invest. They have also embarked on a mission to help producers and retailers to minimize food waste by 50% by 2030 in collaboration with the Danish Ministry of Environment and Food.
I met with Katja for a breakfast chat over Zoom to talk about eachthing, her memories of Founders of Tomorrow 2018, the life of a startup co-founder under the Corona pandemic and the perks of the Aarhus startup scene.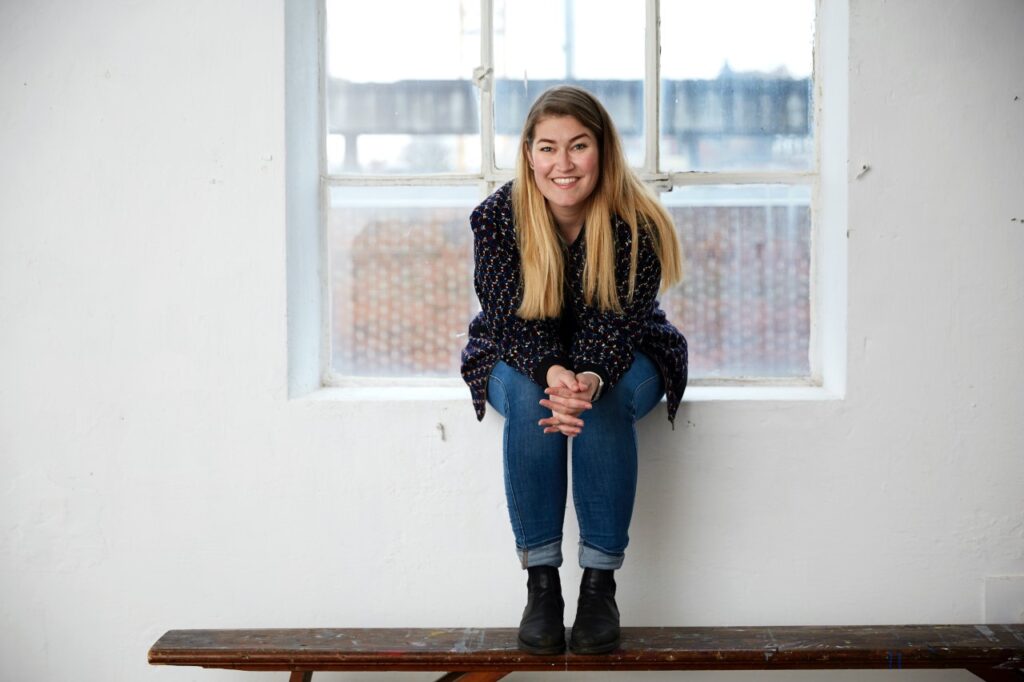 Hey Katja! So good to see you! How are you? What are you up to these days?
Great! I'm now a co-founder of eachthing, a scalable tech impact company. I deal with business development and partnerships. We are ten people in total, including two volunteers. It's going well and keeping me busy. Because of the pandemic, I spend a lot of time at the office in online meetings with food producers and different NGOs we collaborate with.
How did you become an entrepreneur in the first place?
My dad has told me that I knew I was going to be an entrepreneur since I was six years old. I had already designed a logo for my future company. I collected a lot of different inputs in my studies. I'm a civil engineer in value chain and innovation management by education. During my studies, I was active in a student union doing a lot of communication activities, something that I do a lot of these days. After graduating, I worked as a teacher and adviser on entrepreneurship without ever having been an entrepreneur myself, which is quite crazy when you think about it.
What were you doing around the time when you joined Founders of Tomorrow in 2018? How did you find out about the program?
I was involved in two different companies. Founders of Tomorrow reached out to one of them, Ladies First, Denmarks largest network for entrepreneurial women. The two other partners were really eager to join, and I thought "why not?".
How was your experience at FoT? Anything you still keep with you after 2,5 years?
I really enjoyed the talks from the different speakers. They were inspiring and opened my eyes to the tech that's out there. I learned not to let the limitations of current technology set the limits of my future startup, but accepted that technology develops exponentially as well – it gave me a much bigger perspective on the possibilities. Also, some of the talks moved me on a personal level. I remember Lene Rachel Anderson's different circles of belonging and Linda Liukas sharing how she found her own voice in the tech space. It is really unique how at Founders of Tomorrow you combine technological opportunities and challenges with a human perspective.
So nice to hear! And I also remember Linda's talk really vividly! Why do you think it moved you?
As a woman founder, it really resonated with me because it's been a personal process to find my own voice. To accept and be myself and not being apologetic, "this is me".
How has this revelation impacted you?
It's been transformational. And instrumental to getting where I am today. People react to the confidence that comes with accepting yourself. Everyone has an opinion about what you should do. As a founder, you need inner confidence to take in the advice, change course if needed and present your ideas and choices when you make them.
I also get a lot of support in a networking group for women entrepreneurs. We share our ups and downs. Being a founder is a tough job and there is a lot of financial pressure as a private person and sometimes also as a company. And we work so closely with people, which is not always frictionless. Everyone should have a confidential space like that.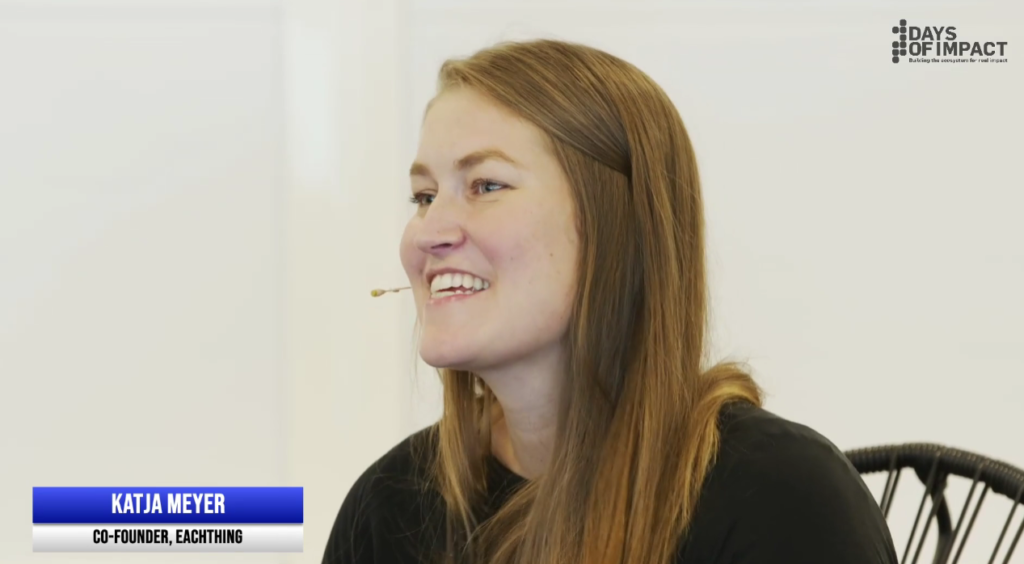 I totally agree. Thank you for sharing. So, what happened after Founders of Tomorrow 2018?
I thought I was going to focus on building up Ladies First. But then I met my co-founder Sven (Philipsen) at TechBBQ. I already knew of him from the Aarhus startup ecosystem. He has a strong IT profile and he was building a really tech-heavy company at the time. When I met him at TechBBQ, he was looking for a co-founder. Our competencies really complement eachother and we share the same values. I saw the opportunity to work in the fields I'm passionate about: sustainability and product development. And to create something scalable using technology with the potential of impacting a lot of people. Plus, I could work with a person that I admire!
Wow, sounds like stars were aligned! Tell me more about eachthing.
At eachthing, we help consumers to find products that match their needs and values. The focus is on food. We use machine learning algorithms to get an understanding of why consumers choose what they choose.
We have many NGOs as our knowledge partners. They help us bring in transparency and understanding product information, for example, on the effects of palm oil on the environment or celiac disease. They also provide a great channel to relevant consumers through their communities who are already conscious about the things we work with.
How has it been building a company in Aarhus? We've previously talked about how the startup scene in Denmark is quite Copenhagen-centered.
I sometimes joke that no startup founder would be here unless we'd married someone who wants to stay. But a big part of being a founder is also about living your life. Business-wise, there are definitely benefits with being in Aarhus for us. The food cluster has strong presence here with both big food producers and research in the region. Also, we have a lot of retail and e-commerce startups here. There are even rumours that it might be easier to access tech talent because of the IT university. So, I guess, it's actually a really good scene for us.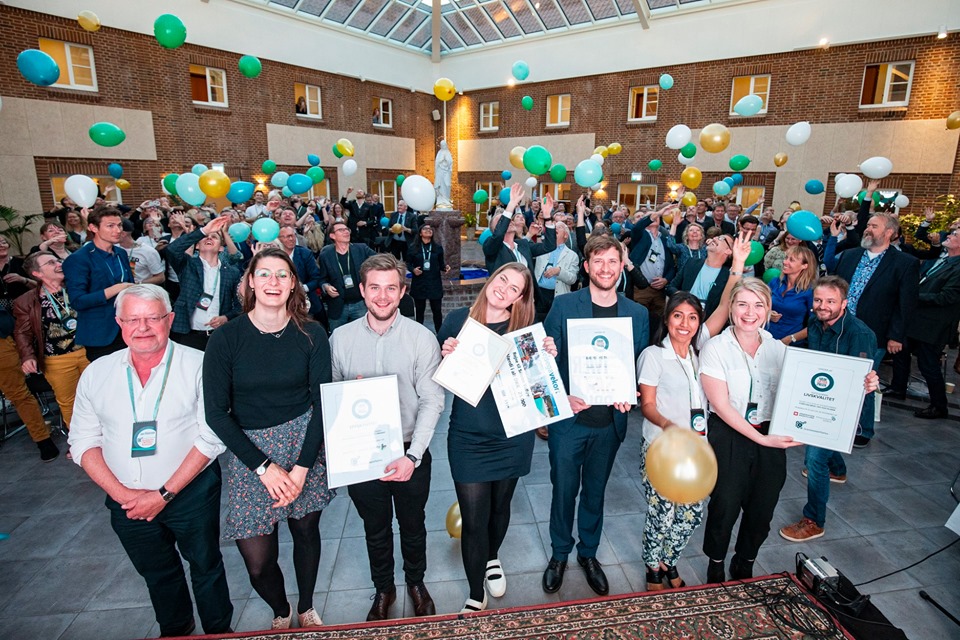 How has the Covid-19 pandemic affected your work?
Well, people have been more open and have had more time to meetings online. But the day Denmark closed down mid-March this year, we were pitching for the last 10 % of our funding. The investors got busy trying to save their existing investments, which meant that we got zero feedback on our pitch. Things looked really bleak for a while. But with the pandemic, people were moving to online shopping making our case for digital product info even stronger. Also, food producers haven't been hit the way many other industries have been. The crisis showed that our case is future proof. We also managed to get the remaining funding this summer with an impact investor we'd been in contact with before the pandemic.
I'm glad to hear you haven't been hit that bad. What's next for eachthing?
We will be launching our app soon. We have proved our product market fit, meaning that we have to validated that consumers are asking for the information we provide, food producers think the transparency agenda is interesting enough, and NGOs wants to work with us. Now we have to prove that we can build, refine and scale the technology and the business. After that, we'll be scaling abroad. We'd like to start with the Nordics and Germany. Denmark is our test market and there is definitely international interest.
Thank you Katja! We look forward to following you and eachthing!