Founders of Tomorrow 2020
Draft program
Day 1: Monday 22 June
Welcome
Introduction to exponentials
Why Space, and why now?
Space & ethics
Tech deep dive: what does technology enable us to do today?
A walking reflection: "How might we?" and "How might I?"
Day 2: Tuesday 23 June
"Tech as an enabler"
Tech talks on machine learning, digital manufacturing, robotics
"Tech for space"
Rockets, creating solutions for space travel, space debris, space mining
Day 3: Wednesday 24 June
"Space tech for Earth"
Turning our eyes on Earth: How to leverage satellite data for impactful solutions?
"Space as a design method"
How can Mars and the moon help us develop solutions on Earth?
Scifi and the power of storytelling
What can we learn about our society today for creating a society on Mars?
Day 4: Thursday 25 June
"Space as a business"
Old Space vs. New Space
Being a space entrepreneur
Business models for impact
"Spacethon" for co-creating impactful ideas
Day 5: Friday 26 June
"Spacethon" for co-creating impactful ideas continues
Bringing it home - reflection
Sharing ideas
Finals
Party!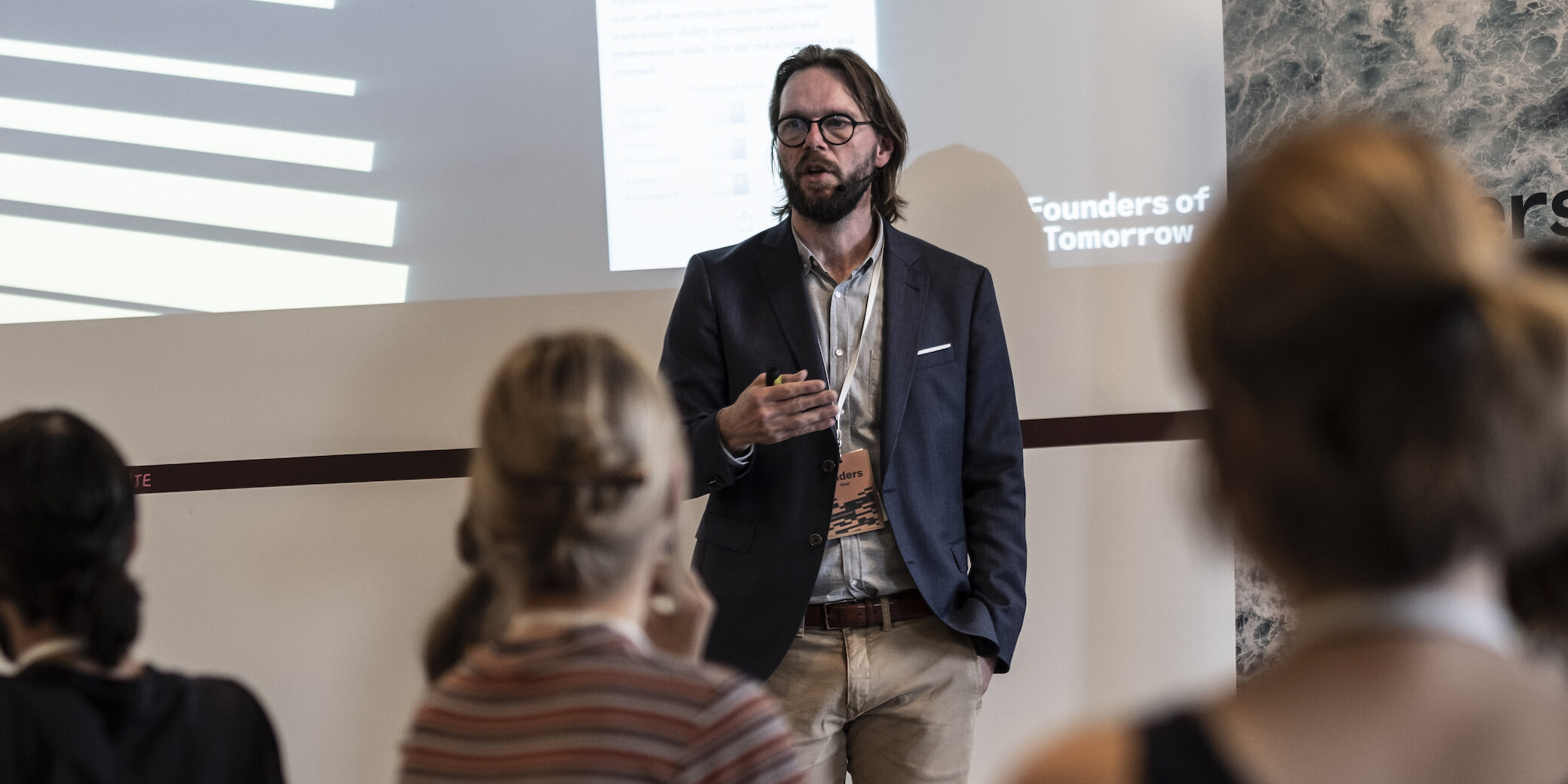 "Founders of Tomorrow (Danske iDeer) gave me the 'why not?' mindset and ideas about exponential technology and its new business models."
- Former participant
Day 1 (25 June 2018)
Welcome & setting the scene
Getting to know the other Founders
Panel: the Global Goals as a framework for problem solving and innovation
Introduction to Exponentials
Tech Talk: Digital Manufacturing
Tech Talk: Blockchain for impact and new forms of collaboration
Fireside Chat: Biotech and Ethics
Day 2 (26 June 2018)
Tech Talk: Complex Networks
Tech Talk: Artificial Intelligence
Tech Talk: Robotics
Tech Talk: MedTech
DeepDive: Neuroscience and the Biome
Talk: Future of Health and Innovation
Workshop: Disruption as a Method
Talk: Data and Ethics
Fireside Chat: Quantum Computing
Day 3 (27 June 2018)
Design Thinking for Agile Development
HEBOCON building robots & agile development
Workshop: Persona Centric Development for sustainability
Group work: Conceptualization, bringing in the tech!
Insights on impact from an impact investor
Fireside Chat: Human meaning making: Nordic lessons from the previous disruption
Day 4 (28 June 2018)
Workshop: Peer Concept Development
Interview - Nordic Entrepreneurship
Workshop - Disruptive Business Models
Talk and workshop - Storytelling is Magic!
Workshop: prototyping Workshop: Testing and Learning
Day 5 (29 June 2018)
Speakers' training: Getting your voice heard
Group pitch competition
Talk – Creativity, improvisation, collaboration and inspiration by Jazz musician
Announcing the pitch winner and the Founder of Tomorrow
Wrap-up of the week & Celebration!